1986 Vmax 540 (VMAX540K)
Click on the Image to View Larger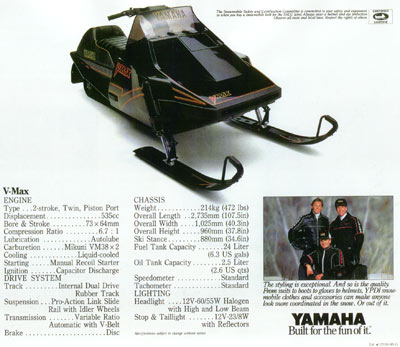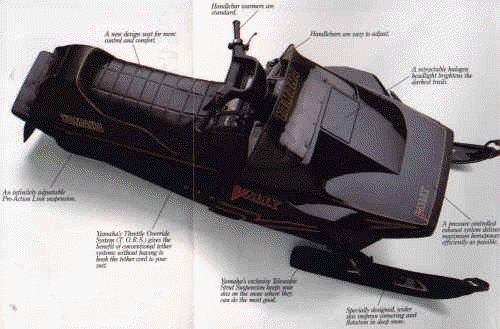 It'll Freeze the competition in their tracks.
If you think too much of everything is just enough, you've come to the right snowmobile
Out of the crate, the V- Max's 535cc liquid cooled, two stroke is capable of creating a virtual avalanche of power. And sustaining it at peak levels.
Of course, no amount of horsepower is worth a thing if your mechanic spends more time on your sled than you do. And that's where a heavy duty Yamaha Comet clutch, removable shims, chrome cylinder liners, CDI and Autolube Oil Injection come in. They're all features which make the V- Max the most reliable "muscle" sled on the market.
Now if all this leads you to believe that we designed the V- Max's incredible engine just so you could go faster, you're right.
And you're wrong.
Because we didn't put all that horsepower to work only at the top end. You'll also find them in the low to middle range. Where you do most of your riding.
To make sure all that power gets to the snow there's a Pro- Action rear suspension and a Telescopic Strut front suspension that offers the widest range of comfort and support.
Great looks, high performance, superb handling and technical superiority. On a machine with a well deserved reputation for bullet proof engineering.
No, we don't expect the competition to stand still for this
It'll just seem that way.
Article Index :: Models :: Forum :: My Sleds :: Your Vmax :: Guestbook :: Dedication
All Images Property of VintageVmax.com, please give credit where credit is due :)
Site Designed By: Tyler Ochs