1984 Vmax 540 (VMAX540H)
Click on the Images to View Larger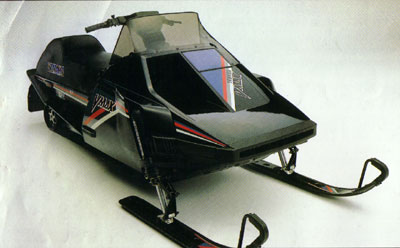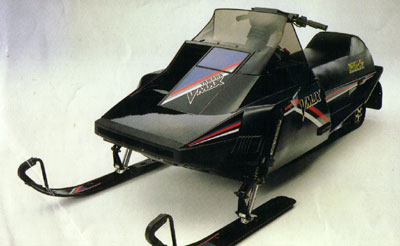 The YAMAHA VMAX is rapidly becoming a legend in its own time.
Not because it's the fastest production snowmobile we've ever built.
Not because of it handles like a Porsche for the snow.
Not because of it's sleek, sophisticated styling.
No, the VMAX is approaching legendary status because it doesn't compromise.
Not anywhere.
From it's ski tips to it's mud flap, this snowmobile is strictly high performance.
The 540cc powerplant sitting low beneath that sleek hood is liquid cooled so it can produce peak horsepower longer. The cylinders are chrome-lined to reduce wear and friction. The bottom- end contains seven main bearings instead of the normal six. And this year, the carburetor and oil pump setting have been recalculated and readjusted, cutting oil consumption almost in half.
The VMAX's Telescopic Strut Suspension provides nearly twice as much travel as ordinary leaf springs. And our exclusive Pro- Action Link rear suspension gives you the best of both worlds: smooth, stiffer more solid response for the rough bumps.
Even the VMAX's quartz halogen headlight is designed for performance. It folds down so it won't reduce the sleds's aerodynamic efficiency.
But perhaps the best feature of the VMAX, is that it comes out of the box ready to go.
No dialing in, no super tuning, no fussing.
So all you have to do is point it in the right direction, push the throttle, and hold on. Real tight.
Better yet, the clothing from '84!!
(nice pose)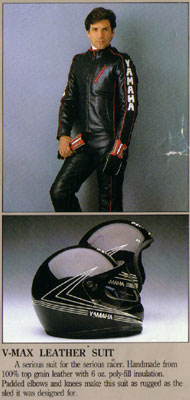 Article Index :: Models :: Forum :: My Sleds :: Your Vmax :: Guestbook :: Dedication
All Images Property of VintageVmax.com, please give credit where credit is due :)
Site Designed By: Tyler Ochs